From the BMW of Seattle Website:
BMW Seattle Breaks Ground On New Facility In SODO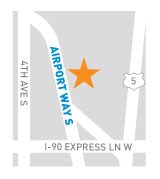 As growth in Seattle?s downtown has driven up the cost of real estate, Seattle-ites have
seen
their options for
purchasing and servicing their vehicles dwindle. BMW Seattle is
bre
aking the trend. Making
a
significant investment in an important downtown neighborhood, BMW Seattle is breaking ground on their n
ew
store in the SODO district.
?We have experienced tremendous growth in recent years at our BMW Seattle store?, said Sid DeBoer, ?Our customer base has grown so large, that we have simply outgrown our current location. It is with great pride that we are building this new state of the art facility to better serve our customers. Through market research and analysis, we think we have found the perfect location to provide expanded options to people who live in the city, or who work downtown.? The new facility is being constructed at 1002 Airport Way South. The site formerly housed warehouse space.
With the increased size, BMW Seattle will be hiring additional technicians, service advisers, and customer service representatives. The larger facility will result in a wider selection of vehicles, and will provide customers with greater flexibility in scheduling their vehicle service and maintenance. The size of the new store, and its location represent a significant commitment to Seattle and to the downtown community.
The building will be over 300,000 square feet in size and have more than 40 Service Bays. Completion of the building is slated for 2009.